I have been reading this linkup on my friend's blog the last couple weeks and love the idea!So this week I decided to link up myself.Head over to my friend's blog
Our House of Pink
I absolutely love her blog!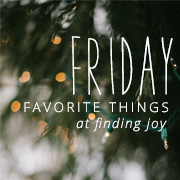 *Spending time with just Jake when the kids are at school and Chloe is napping.

*Sweet Chloe smiling every time she sees me(amazing feeling).
*Kade eating better.They even talked their dad into to eating with them
*My sweet hubby bringing me roses last weekend just because.I sure love that man!
*All my daughter's crazy stories from school.
*Hanging out with my hubby at the end of the day outside.It's nice to have those few moments together.
Please go over and visit
Finding Joy
Awesome blog!Everyone have a safe and fun holiday weekend!
Hugs and Love,
Brandi